<< Making Comics Online Features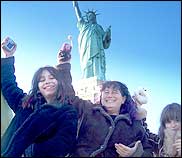 Official Tour Blog
click back for 2006-2007 entries
---
Where We Went
September 5, 2006
New York, NY
Official Launch
Making Comics in stores
September 7, 2006
New York, NY
School of Visual Arts
Classroom Q & A. 6 pm

September 8, 2006
New York, NY
Midtown Comics, Times Square
200 W 40th Street
Store Signing, 5-7 pm

September 9, 2006
Brooklyn, NY
Rocketship
208 Smith St.
Book Release Party, 8 pm
September 14, 2006
Cambridge, MA
Massachusetts Institute of Technology
Lecture, 5-7 pm
September 16, 2006
Cambridge, MA
The Million Year Picnic
Comics Store Signing
2-4pm
September 18, 2006
Rochester, NY
Rochester Institute of Technology
College of Imaging Arts and Sciences
Lecture, 3:00-4:30pm.
September 20, 2006
Syracuse, NY
Syracuse University
Lecture. 12:45-2:05 pm in the Shemin Auditorium in the Shaffer Art Building.
September 26, 2006
Boston, MA
Northeastern University
Lecture 6 pm
Blackman Theater
October 5, 2006
Princeton, NJ
Princeton University
Lecture, 4:30 pm
October 7, 2006
Nationwide and Beyond!
The Third Annual 24 Hour Comics Day
October 9-12, 2006
Barcelona, SPAIN
Seminar for Egmont Publishing
October 13-14, 2006
Bethesda, MD
The Small Press Expo (SPX)
Official Guest.
October 14, 2006
Washington, DC
Politics and Prose
Bookstore signing
October 18 & 19, 2006
White River Junction, VT
The Center for Cartoon Studies
Classroom Discussions

October 19, 2006
Hanover, NH
Dartmouth College
Lecture, 4:15 pm
Rockefeller Room 2
October 27, 2006
Side Trip: Seattle, WA
Nielsen-Norman Group
User Experience Seminar
One Day Workshop

November 1, 2006
Portland, ME
Maine College of Art
Lecture, 7pm

November 3, 2006
Rindge, NH
Franklin Pierce College
Lecture, 7 pm
Marcucella Lecture Hall 102
November 8, 2006
London, U.K.
Institute of Contemporary Arts
Bookshop signing, 7 pm
(i.e., 19.00)
November 9, 2006
London, U.K.
Art Workers Guild
Lecture
November 10, 2006:
London, U.K
Nielsen-Norman Group
User Experience Seminar
One Day Workshop

November 11, 2006
Nottingham, U.K.
Page 45
Informal Meet and Greet
2 pm (i.e. 14.00)
November 18, 2006
Side Trip: Nashville, TN
National Council of Teachers of English Annual Convention

November 20, 2006
New York, NY
New York University
Tisch School of Arts/ITP
Lecture, 7pm.
November 30, 2006
Philadelphia, PA
Drexel University
Lecture, 7pm
December 4, 2006
Greensburg, PA
University of Pittsburgh at Greensburg
Lecture, 7pm
Village Hall 118
150 Finoli Drive
December 7, 2006
Pittsburgh, PA
Carnegie Mellon University
Lecture, 4:30-6:30pm. McConomy Auditorium
December 13, 2006
Halifax, Nova Scotia
Strange Adventures
5262 Sackville St.
902-425-2140
Informal Meet and Greet
6:00pm.
December 16, 2006
Montreal, Quebec
Millenium
451 Marie-Anne est
514-284-0358
Informal Meet and Greet
2:00-4:00pm.

January 11, 2007
Rock Hill, SC
Winthrop University
Lecture, 7pm
Tillman Auditorium
$10 admission

January 13, 2007
Charlotte, NC
Heroes Aren't Hard to Find
Store Signing, 2-5pm
Corner of 7th and Pecan
January 16, 2007
Raleigh, NC
North Carolina State University, College of Design
Sponsored by Lulu.com
Lecture, 7pm
Talley Student Center
2610 Cates Ave
January 19-21, 2007
Atlanta, GA
Georgia Institute of Technology
3-Day Seminar
(enrolled students only, see signing below for public opportunity)

January 22, 2007
Atlanta, GA
Barnes and Noble
48 Fifth Street, NW
Technology Square
Signing and Q & A
6:30 pm
January 25, 2007
Savannah, GA
Savannah College of Art and Design
Trustees Theater
216 E. Broughton St.
Lecture, 7pm

January 29, 2007
Auburn, AL
Auburn University
New Location:
R. B. Draughon Library
Special Collections Room
Signing/Q & A, 4-6pm
(Sponsored by AU Bookstore)
January 30, 2007
Hattiesburg, MS
Mainstreet Books
205 Main Street
Signing, 5-7pm
February 5, 2007
Arkadelphia, AR
Henderson State University
HUIE Library
Q and A, Signing, 7pm
February 9, 2007
Tulsa, OK
WaterWorks Art Studio
1710 W. Charles Page Blvd
(918) 596-2440
Gallery Signing
5:30-7:00pm

February 10, 2007
Dallas, TX
Zeus Comics
3878 Oak Lawn
Suite 100E
Signing, 5-7pm
February 12, 2007
Arlington, TX
University of Texas Arlington
Nedderman Hall
416 Yates Street
Lecture, 6:00pm
February 13, 2007
Dallas, TX
Sabre Labs
Lecture
February 17, 2007
Austin, TX
Austin Books
5002 North Lamar Blvd.
Signing/Meet and Greet
7-9pm
February 19, 2007
Austin, TX
Wizard Academy
(Private lecture for Academy Students)
February 20-21, 2007
Lafayette, LA
McCloudi-Gras!

February 23, 2007
Gainesville, FL
University of Florida
Lecture, 6pm
Emerson Alumni Hall
Details

February 26, 2007 mid-day
McLean, VA
MITRE Corporation
(not open to the public)
February 26, 2007
Charlottesville, VA
University of Virginia
Gilmer Hall Lecture Auditorium
Lecture, 8:30pm

March 1, 2007
Clarksville, TN
Austin Peay State University
Trahern Bldg. Rm 401
Lecture, 7pm
Details | Map

March 6, 2007
Louisville, KY
University of Louisville
Chao Auditorium
Ekstrom Library
Lecture, 6pm

March 7, 2007
Indianapolis, IN
Indiana University | School of Informatics at IUPUI
535 W. Michigan St
IT Room 152
Lecture, 7pm
Details
March 12, 2007
New Haven, CT
Yale Book Store
77 Broadway
Discussion & Signing, 7pm
Details

March 13, 2007
Providence, RI
Rhode Island School of Design
2 College St. Room 412
(Benefit St. entrance suggested for easy access to 4th floor)
Informal Q & A, 7:30pm
Details
March 16, 2007
Newark, DE
Captain Blue Hen Comics
280 East Main St.
302-737-3434
Meet and Greet/Signing
4-7pm

March 19, 2007
West Liberty, WV
West Liberty State College
Seminar (for WLSC students)
10am-5pm

March 20, 2007
Wheeling, WV
Ohio County Public Library
52 16th St
Lecture 7:30-9:30pm
(plus day seminar for local high school students)

March 25-31, 2007
Side Trip: Rowland Heights, CA and Ventura County
Visiting our old stomping grounds and officiating at the wedding of Kazu Kibuishi and Amy Kim Ganter!
April 4, 2007
Columbus, OH
Ohio State University
Wexner Center for the Arts
Lecture, 4:30 pm
Details

April 11, 2007
Minneapolis, MN
Minneapolis College of Art and Design
One day workshop
Not open to public

April 11, 2007
Minneapolis, MN
Dreamhaven Books
912 West Lake Street
Discussion & Signing
7:30 pm
Details | Directions

April 16, 2007
Fargo, ND
North Dakota State University
Memorial Union
Century Theater
Lecture, 7:00 pm
Details

April 18, 2007
Grand Forks, ND
University of North Dakota
Part of The 38th annual Time Out and Wacipi (Powow)
Lecture, 4:00 pm
Details
April 23, 2007
Urbana-Champaign, IL
University of Illinois Urbana-Champaign
Krannert Art Museum Auditorium
New Time:
Lecture, 6:00 pm
Details

April 25, 2007
Chicago, IL
HSBC
Private Lecture

April 28, 2007
Waukesha, WI
Neptune Comics
Q & A/Signing, 2:00 pm
Details
May 5, 2007
Dearborn, MI
Green Brain Comics
13210 Michigan Ave.
(3 blocks east of Schaefer)
Hanging out for
Free Comic Book Day
1-5 pm
May 6, 2007
Toronto, Ontario
OISE Theatre
252 Bloor St. West
Lecture, 7 pm
In association with The Beguiling.
May 7, 2007
Toronto, Ontario
The Beguiling
601 Markham Street
416-533-9168
Signing, 6-7 pm

May 11, 2007
Iowa City, IA
University of Iowa
Art Building West
141 N. Riverside Drive
Room 116
Informal Q & A, 5 pm

May 14, 2007
Sioux Falls, SD
The Little Theatre at Washington High School
501 N Sycamore Avenue
Lecture, 7 pm

May 16, 2007
Cheyenne, WY
Laramie County Public Library
Teen Area
2800 Central Avenue
Informal Discussion, 7 pm
Details

May 19, 2007
Missoula, MT
Muse Comics
2100 Stephens Ave, #107
Signing, 2-4 pm

May 21, 2007
Moscow, ID
Safari Pearl
221 East Third Street
Signing, 3-6 pm

May 25, 2007
Seattle, WA
Zanadu Comics
Downtown Store
1923 3rd Ave.
Signing 4-7 pm

May 29, 2007
Seattle, WA
Art Institute of Seattle
Informal Conversation with Students, 2:30 pm.

May 31, 2007
Vancouver, BC
Sophia Books
450 West Hastings
604-684-0484
Signing, 7 pm

June 5, 2007 (Tentative)
Haines, AK
Haines Public Library
Informal Evening
Q and A

June 7, 2007
Juneau, AK
Juneau Public Library
Silverbow Backroom
Lecture 7-9 pm

June 9, 2007
Juneau, AK
Juneau Public Library
Workshop

June 13, 2007
Fairbanks, AK
The Comic Shop
418 3rd Street #2
452-5780
Signing, 6:00 pm

June 14, 2007
Fairbanks, AK
University of Alaska Fairbanks
Natural Sciences Building
Boyd Lecture Hall
(Room 201)
Lecture, 6:00 pm

June 15, 2007
Ester, AK
The Annex Gallery
Workshop, 6-9 pm
Details

June 17, 2007
Anchorage, AK
Workshop, 11am-4pm
Dimond Center
Details

June 18, 2007
Anchorage, AK
Wilda Marston Theatre
Loussac Library
Lecture, 7:00-8:30 pm
Details

June 27, 2007
Portland, OR
Multnomah County Library
801 S.W. 10th Avenue
Panel Discussion on the Graphic Novel
6-7:30 pm
Details

June 28, 2007
Portland, OR
Pacific Northwest College of Art
Wieden + Kennedy
Auditorium
224 NW 13th Ave.
Public Lecture, 7-9 pm
More Details

June 29-30, 2007
Portland, OR
Pacific Northwest College of Art
Two-Day Comics Storytelling Workshop
Part of PNCA's Graphic Novel Intensive.

July 1, 2007
Portland, OR
Pacific Northwest College of Art / Society for Visual Animators
Panel Discussion at PNCA
NW 13th & Johnson St
6:30-8:00 pm
(reception begins 5:30 pm)

July 7, 2007
Salt Lake City, UT
Night Flight Comics
210 East 400 South
Informal Meet and Greet
3:30-6:00 pm

July 9, 2007
Boulder, CO
Time Warp Comics
3105 28th St.
303-443-4500
5-7 pm
Details

July 11, 2007
Omaha, NE
Krypton Comics
2912 S 84th St.
402-391-4131
Q and A/Signing
5-7 pm

July 13, 2007
St. Louis, MO
Star Clipper Comics
6392 Delmar Blvd.
Q and A /Signing
4-7 pm

July 16, 2007
Manhattan, KS
Kansas State University
Little Theater
First floor of Student Union
Lecture, 7 pm
Details

July 18, 2007
Albuquerque, NM
The Art Center Design College
5000 Marble St NE
Lecture, 7 pm
Presented by VSA North Fourth Art Center, 7000 BC & The Art Center Design College.
$10 General Admission.
$8 Students.
Info: 505-344-4542

July 19, 2007
Phoenix, AZ
Samurai Comics
5024 N. 7th St.
602-265-8886
Informal Meet and Greet
7-9 pm

July 20, 2007
Phoenix, AZ
Art Institute of Phoenix
Lecture, 4:30-6:30 pm
Details TBA
(in association with Samurai Comics)
July 22, 2007
Side Trip: Austin, TX
Wizard Academy
Private Lecture

July 26-29, 2007
San Diego, CA
Comic-Con International
Signing, appearing on panels, and having fun with 100,000 other con-goers!

Comic-Con panels:
Thursday, 6:00-7:00 pm: How To Become an Internet Geek Super-Star (with Sky) Room 30CDE

Friday, 5:30-6:30 pm: Scott McCloud and Family Room 5AB

Saturday, 7:00-9:00 pm: CBLDF Benefit Auction (Will iclude a special item donated by Sky) Room 8

Sunday, 12:00-1:00 pm: My Dad Makes Comics! (With Sky and Winter).
Room 5AB

August 7, 2007
San Diego, CA
SIGGRAPH 2007
Keynote Lecture
Room 6 AB
1:45-3:30 pm
Details
August 14, 2007
Honolulu, HI
Honolulu Academy of Arts
Lecture, 7:30 pm
Details
August 18, 2007
San Francisco, CA
West Coast Live
10 am
Tune in here

August 18, 2007
Santa Rosa, CA
The Charles M. Schulz Museum
Q and A/Signing
3:00 pm
August 19, 2007
Berkeley, CA
Comic Relief
2026 Shattuck Ave
(new location!)
510-843-5002
Signing, 3-5 pm
Directions

August 20, 2007
San Jose, CA
eBay
Private Lecture
August 20, 2007
San Jose, CA
Hijinx Comics
Informal Meet and Greet
7:30 pm
August 21, 2007
San Jose, CA
Adobe Systems
Private Lecture

August 22, 2007
San Francisco, CA
Inforum / The Commonwealth Club
595 Market St., 2nd Floor
Panel Discussion, 6:30 pm
$12 for members, $20 for non-members.
Directions

August 23, 2007
San Francisco, CA
Cartoon Art Museum
Informal Q and A, 7-9 pm
$5 general admission (free for members).
Call 415-CAR-TOON, ext 314 for reservations.

August 24, 2007
Mountain View, CA
Google
Private Lecture

August 26, 2007
(Note Corrected Date)
Las Vegas, NV
Barnes and Noble
8915 W. Charleston
702-242-1987
Q and A, Signing
3 pm

September 1, 2007
Los Angeles, CA
Golden Apple
Tour Wrap Party!
4-7 pm