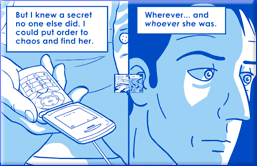 The Right Number
The Right Number is a projected three-part online graphic novella about math, sex, obsession and phone numbers presented in an unusual zooming format.
Part Three was delayed due to severe hand strain problems on my part a few years ago and delayed again when I began work on Making Comics. I do still hope to finish the third and final chapter and make it available at some point in the future. Part Three will also be offered free through this page. (Sorry for the delay!)
The Right Number was originally presented in June 2003 using a micropayments system offered by a company called Bitpass, sold for 25 cents each. Since Bitpass ceased operations in January 2007, I'm offering Parts One and Two for free now.
Although the The Right Number was an experimental story in an experimental format (originally using an experimental payment system) I like it as a story and I hope you will too.
Originally posted 2003-2004.