Toronto Looms
May 6th, 2009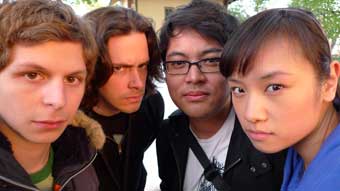 Only one day until the whole family flies to Toronto with me for TCAF! You can find me wandering around a lot, but also at:
Saturday, 10:15am-11:15am: Concept Comics: Abstract Comics Ideas. Bill Kartalopoulos will investigate the challenges and opportunities of communicating abstract ideas in the comics form with artists Tom Kaczynski, Scott McCloud, Dash Shaw and Jason Shiga. Learning Centre 1.
Saturday, 2:00pm-3:30pm: Scott McCloud: FAQ. The author of Understanding Comics, Making Comics, and ZOT! will be talking and taking questions from the audience! Have you ever had a question for Scott McCloud? Well here's your chance to ask Scott! TD Gallery.
Sunday, 1:00pm-2:30pm: Newspapers, Comic Books, and The Internet. Featuring R. Stevens, Scott McCloud, Stuart Immonen, Brendan Buford, and John Martz. Moderated by Steven Murray. Learning Centre 1
[Photo: Edgar Wright's snapshot of Mr. O'Malley on the set of the Toronto-based Scott Pilgrim film w/Michael Cera, filming right now.]