Hobo Lobo
April 15th, 2011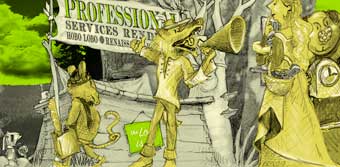 Speaking of experimental comics, Hobo Lobo of Hamelin is a cleverly designed multi-plane side-scroller by Stevan Živadinović that most of you can probably view without any technical hiccups.
I like the multi-plane effect. Full-out 3D could also work for scrollers like this of course. The key is in maintaining the work's identity as a still life; even though navigating through it might be filled with dynamic motion.
[link suggested both on Twitter and in yesterday's comments]
Meanwhile, Dylan Horrocks has details on Darkest Day, a benefit book for the victims of the Christchurch, New Zealand earthquake which can be purchased here.
That's it for this week. See you all Monday!