The Thing About Belgium
March 5th, 2009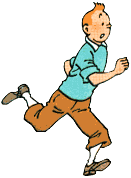 Off to Brussels for the Book Fair.
I was in Turnhout for a comics festival in late 2007 and I noticed something odd. It was moist, cool, and windy, and when I caught my own reflection in a shop window, my hair was blowing back into a small tuft directly over my forehead—exactly like Tintin. I mentioned this to cartoonist/genius Kevin Huizenga at dinner that night and he confirmed that he'd noticed his hair doing the same thing whenever he was in Belgium and had even written about it. Was Hergé a realist? 
Updates might be spotty for a few days. Returning home Monday.