This Saturday!
September 29th, 2009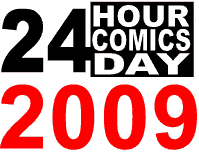 Be sure to check for events in your area at ComicsPro's official site and check out my own info page about the 24 Hour Comic and its history here.
I'll be drawing all day myself, though on the graphic novel (my reward for having started the ball rolling all those years ago is that I only had to do it once) but if you've never tried the 24 hour comics challenge, I do recommend it.
For those coming in late, I started the challenge in 1990, but it was Nat Gertler who first came up with the idea of a 24 Hour Comics Day in 2004 to promote an anthology I edited. In 2008, Nat handed it off to ComicsPro.
One of my favorite aspects of my weird little inventions is the way they tend to take on a life of their own over time. This one definitely qualifies.