On the Road: Philadelphia
February 23rd, 2010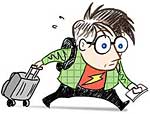 Quick note that I'm on the road to Philadelphia for a talk to students at the Germantown Friends School and William Penn Charter School.
Not public talks, I'm afraid, but I'm sure I'll be back in Philly before too long (my last visit was 2006's talk at Drexel University).
As usual, blogging might take a break until I'm back on Friday. Enjoy the week!