The Scale of the Universe
February 11th, 2011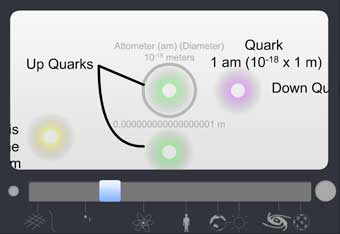 Here's a great z-axis zoom-through of the universe [link via Kris Lachowski] showing the vast range of scales from the sub-atomic level to the outer reaches of the known universe.
When I was a kid, I read an illustrated book from 1957 called The Universe in 40 Jumps that pulled a similar trick in a succession of 10x steps; a predecessor to films like Powers of Ten (and partial inspiration for The Right Number).
Looking at this latest effort to make the incomprehensible comprehensible, all I can think is that the universe has gotten A LOT bigger, since I was a lot smaller.
Have a great weekend…
…you tiny, insignificant specks.