Mr. Farley's Electronic Graphical Amusements
August 3rd, 2009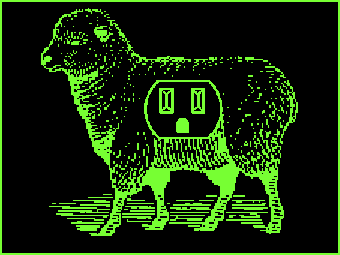 Patrick Farley's webcomics have been sorely missed in recent months due to his former domain, e-sheep.com, being hijacked by zombies.
Now he's restored most of his terrific comics to the newly-minted domain electricsheepcomix.com and added a one-bit placeholder front page that had a lot of us old fogey's shaking our 5.25 inch floppy bones laughing.
Despite the antique placeholder though, Farley remains one of the most forward-thinking artists in webcomics. Check out his archive if you've never seen it, and keep an eye out for new work in the coming months.