Nebraska Speaks
June 2nd, 2010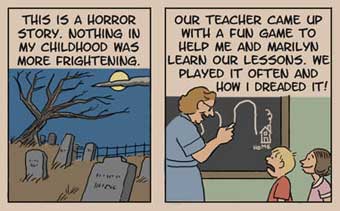 Alan Rose checks in via email with a link to his memoir comic L'il Rose of Corn, a Sunday Paper-style strip about growing up in Nebraska, complete with newsprint colors to complete the illusion that it's been printed (it hasn't—yet).
I was impressed by the confidence and craftsmanship of both writing and art on display. It has a classic feel to it; bolstered by the simple fact that Alan's stories are genuinely interesting.
In his email Alan shared a great quote attributed (perhaps wrongly) to H. L. Mencken about the great Nebraska-based writer Willa Cather: "I don't care how great of writer she is, nobody wants to read about Nebraska."
After reading Rose's memoir comic, I'll upgrade "nobody" to "one" at least.