Works for Me. Does it Work for You?
August 24th, 2010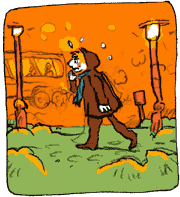 Here's a great short comic about drinking by Montreal-based cartoonist Vincent Giard. Lots of other terrific short subjects can be found in the BD Section of his site.
Giard uses simple animated gifs to get his effects. I sometimes get misquoted as saying that adding animation to comics somehow instantly disqualifies them as comics at all (in fact, I read it as recently as two days ago). Not true.
While I do think that fully-animated monstrosities like the Watchmen Motion Comic stretch the term to the breaking point, I've seen examples of looping animation that work going all the way back to some of the earliest Magic Inkwell strips (#23, for example) by Cat Garza.
The best way I've come up with to explain it is that looping animation (and sound, for that matter) still communicate a static span of time. If panel 2 clearly comes after panel 1 and before panel 3, it still feels like comics, even if panel 2 is a short loop of some sort.
The point isn't whether or not we want to give it a particular label or not, but whether a given comic works as storytelling. Does it feel whole? Can we lose ourselves in the reality of the strip? And in this case, I'd say yes.
What do you think?
[via Randy Oest]