Y'know, I Almost NEVER Do Sketches…
May 18th, 2011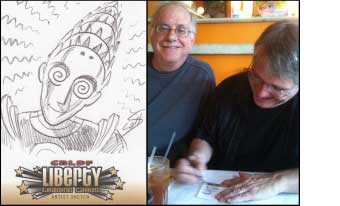 …unless it's for a good cause!
Larry and I met in LA last week and I did a whole bunch of sketch cards for the CBLDF's upcoming Liberty Trading Cards project. Keep an eye out for more announcements; a lot of great artists are participating.
Off to New York today and tomorrow for the Doodle 4 Google award announcements (I was a judge).
Back to blogging Friday!
[photo by Ivy]