How I Spent My Summer Vacations
May 23rd, 2011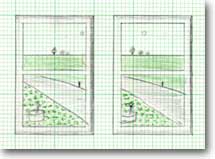 Here's some more very old art from the vaults, probably from elementary school. Click on the either of the small images here to see a bunch of my crazy kid drawings.
When I was about 8 years old, my friend Karl Zimmerman showed me how he made cool spaceship designs using an old chemistry template (looked a bit like this) and similar tools. I starting doing the same, gradually settling on the mighty eraser shield as my tool of choice.
Later on, I started making 3D drawings on graph paper (probably also Karl's idea) that could be viewed by crossing your eyes until the two middle images merge. Here are some examples of some simple 3D doodles. It's the same basic process used in these recent experiments.
Pretty much all my friends' parents were scientists of one sort or another, so it was a kind of nerd utopia. The West Boston suburbs of the '60s and '70s were a lot like Silicon Valley is now.
I often wonder what the kids of Silicon Valley who've grown up in the '90s and '00s have been dreaming up lately. Are any of you out there? What was your childhood like?