What Things Do Part Two
May 25th, 2011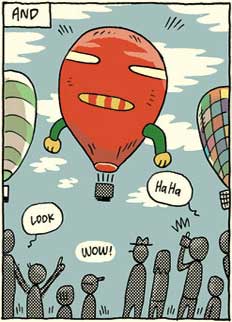 Jordan Crane's site What Things Do continues to post some real gems. Among them, Kevin Huizenga's The Body of Work, originally commissioned for the Cartoon Polymaths show at Parsons.
Huizenga is a cartoonist's cartoonist. If you haven't had the pleasure, do yourself a favor and hunt down some more of his strange and wonderful comics.
Meanwhile, I really like Crane's own long serialized comic Keeping Two (link goes to the new installment but it's all in one big scroll). Crane's been gradually assembling some amazing long works, mostly aimed at print editions. Can't wait until they're all together on my bookshelf.
[via Spurge]