It's That Time Again
July 3rd, 2015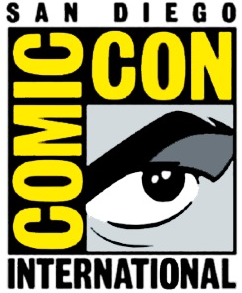 Comic-Con 2015 is around the corner!
I'm a special guest this year so the whole family is coming down to sunny San Diego once again.
Winter was born immediately following Con in 1995. She pointed out the other day that she'd been to every single day of Con held during her lifetime. So Wednesday's Preview Night is a must, to say the least…
SIGNINGS AND PANELS:
Thursday, July 9 • 1:30pm – 2:30pm
First Second: What's in a Page?
Led by First Second editorial director Mark Siegel, four cartoonists take a close look at their own work and each other's, looking in depth at the text and art in a single page of comics, and what's hidden under the surface: panel structure, emotional complexity, and creative influences. With Scott McCloud (The Sculptor), Rafael Rosado (Dragons Beware!), Aron Steinke (The Zoo Box), and Gene Luen Yang ( Secret Coders).
Room 4
Thursday, July 9 • 2:30pm – 3:30pm
Comics Arts Conference #4: Eisner vs. Eisner: The Spirit at 75
Panelists Scott McCloud (Understanding Comics), Michael Uslan (Batman v. Superman: Dawn of Justice), Trina Robbins ( Pretty in Ink: American Women Cartoonists 1896-2013), Karen Green (Columbia University), Jared Gardner (Ohio State University), and moderator Danny Fingeroth (Disguised as Clark Kent: Jews, Comics and the Creation of the Superhero) discuss the two major phases of Will Eisner's career. Beginning with the 1940 creation of his iconic character the Spirit, used by Eisner to tell stories of sophistication and depth, the discussion will then shift to his 1970s reinvention of comics, catalyzing the literary comics movement with A Contract with God, the first of many graphic novels he'd create.
Room 26AB
———————-
Friday, July 10 • 10:00am – 11:00am
Spotlight on Scott McCloud
Text and images-the combination of these two is what makes a comic. But how do you move beyond that simple fusion to create a true story, with characters, plot, and narrative depth? Renowned, best-selling authors Scott McCloud (The Sculptor) and Gene Luen Yang (Secret Coders) discuss what goes on behind the scenes when telling stories in graphic novel form, as well as the creative development of McCloud's bestselling graphic novel The Sculptor.
Room 9
Friday, July 10 • 11:30pm – 1:30pm
Signing at the First Second Booth
Booth 1323
———————-
Saturday, July 11 • 12:30pm – 2:00pm
Signing at the First Second Booth
Booth 1323
Saturday, July 11 • 4:00pm – 5:15pm
Signing at the CBLDF Booth
Booth 1918
———————-
Sunday, July 12 • 12:00pm – 1:00pm
Signing at the HarperCollins Booth
Booth 1029
Stop by and say Hi if you can make it! Larry Marder always said it's the "gathering of the tribes" and so it is. And the gathering is bigger than ever.