Four to Watch Out For
May 13th, 2009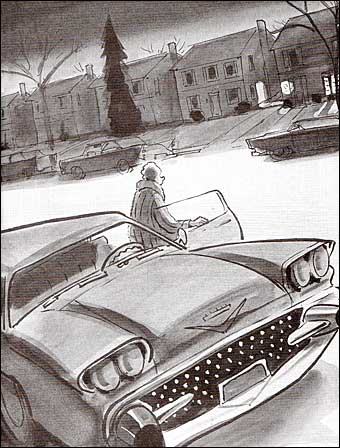 Just had the pleasure (via Bob Weil at Norton) of devouring an advance copy of illustrator David Small's Stitches: A Memoir due out this fall. Get it and read it when the time comes, it's strong stuff. Small comes to comics via children's books, but he's deadly serious about the form, and exploits it masterfully to paint an unforgettable picture of his harrowing childhood.
There are some amazing books on their way in the next several months. David Mazzucchelli's Asterios Polyp is imminent (just assuming that one's amazing like everyone else—poor David) and I recently got advance peeks at Hope Larson's Mercury and Vera Brosgol's in-progress GN for First Second, both of which are the best work to date from these two powerful cartoonists.
Comics is changing. Behind the drawing table, people who would have been content splashing about in other fields a decade ago are swimming to comics' deep end without even taking a breath. And on the drawing table, there's a growing understanding of comics' power to relate emotion, POV, and the warp and weave of memory. The compact, literal, rat-a-tat of post-Kirby mainstream storytelling that I started out reading is finally giving away to something far deeper, stranger, and potentially more beautiful.
Comics may not have its Beethoven yet, but he/she might just be reading this stuff in a year or two, between Math and Social Studies, and realizing for the first time just what they want to do when they grow up.