One-Bit Universe
June 26th, 2009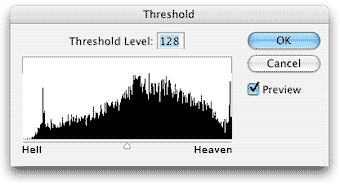 Marjane Satrapi would like you to sign a petition (thanks to Mark Siegel for the link).
Yesterday, some cartoonists I know expressed sadness over Michael Jackson, which I understand. Personally, I thought it was a sad ending to a sad ending. But others were baffled by how anyone could sympathize with anyone accused (and presumed guilty) of such horrible things.
Fortunately Adobe just released a new Photoshop filter for just such occasions (screenshot above). I like to work in grayscale and RGB myself, but some out there might find it useful.
[Hypocrisy disclaimer: Anyone wanting to knock me off of my high horse can just point out my own rant about Fredric Wertham on that audio interview the other day. Guess we all do it from time to time.]