See-Through Comics
July 14th, 2009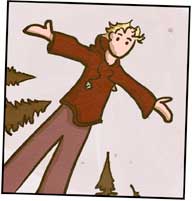 Here's a cool idea I haven't seen before. Pat Race, one of our gracious hosts when we visited Juneau during the 50 state tour, has posted a "see-through" comic on his site.
As Pat explains it, you can download and print a 2-sided pdf, read the front page, then hold it up to the light so that the backside shows through and literally see the comic in "a new light." There's a flash version too, though the effect is a bit different.
It's a nice trick, giving a new dimension to a charming, if melancholy, short subject.