Visualizing Religion
October 19th, 2009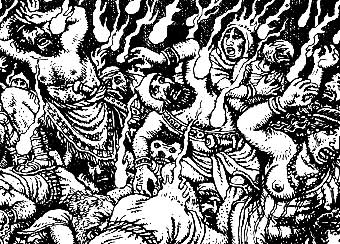 Today is the release date for R. Crumb's massive, fleshy, and strangely literal adaptation of the book of Genesis. It will make some people happy, other people mad, and still other people shrug, but from a purely comics perspective, all you really need to know is that it's 224 pages of new Crumb artwork (Hell, I'd buy it if it was the official R. Crumb adaptation of the Boise, Idaho Yellow Pages).
Coincidentally, on NPR this morning, I heard this depressing story about "feuding" Atheists. Apparently, even though I'm a sometimes "angry" atheist myself, I would actually be classified as "old school" according to this story. The idea of going out of one's way to offend believers seems pointless and self-defeating to me—a resounding demonstration of how religion can dominate a person's life instead of a good case for a compelling alternative.
I don't know about you, but I always thought the alternative to blind faith was knowledge. If some people insist on ignoring scientific evidence (150 years of research on evolution for example) maybe it's because we've done such a bad job of teaching that science. There are no quick fixes, but I can't help thinking that simply getting knowledge out the door by any means necessary is our only way out of the swamp.
In a way, Crumb's Genesis is a step in that direction, because it makes visible a document that even the faithful are sometimes a bit sketchy on as they cherry-pick the lessons that sound warm and fuzzy and conveniently forget all that weird, crazy, ancient gibberish. I can think of one instance where actually reading the Bible finally convinced one Catholic to give it all up.
Note that I have no idea if that was Crumb's intent or not.  All I know is that I'd be much happier if everybody had a fuller understanding of all religions and all sciences and could simply make up their minds based on information instead of merely taking sides among warring tribes of fanatics.
I've said it about art, but I guess it applies here too:
We can't define ourselves by what we're not.