Take Two—With Legos
October 20th, 2009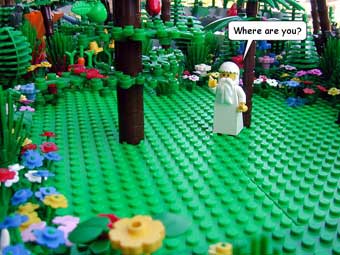 Yesterday's topic, cross-posted over at my Facebook page, prompted reader Håkan Storsaeter to remind us that Crumb isn't the only one to take on Genesis in comics form in recent years.
The Rev. Brendan Powell Smith, since 2001, has been chronicling the entire Old and New Testament using Lego blocks at The Brick Testament. Check it out for some funny and genuinely creative visualizations of countless Bible stories.
And if you know of other attempts to comics-cize the Bible that we can read online, let us know.