Beetlejuice! Beetlejuice! Beetlejuice!
November 4th, 2009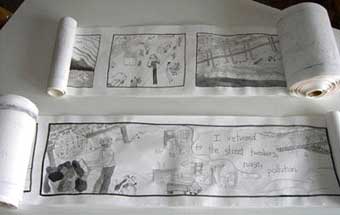 Rudy Rucker writes to let us know that this Thursday, his daughter Isabel will debut "Unfurling," a 400 foot long graphic novel drawn on a scroll of paper, at the SOMArts gallery in San Francisco. It'll be on display through the 27th.
I didn't see Rudy's entry at first. Cory Doctorow at BoingBoing saw it and wrote about it Monday, but I didn't see Cory's entry right away either.
No, the reason I know that Cory Doctorow knows that Rudy Rucker's daughter has a 400 foot long graphic novel scroll at a gallery in San Francisco is simply because the first comment on the BoingBoing thread (by "Shay Guy") was "Somebody tell Scott McCloud." And I was ego-surfing.
In the movie Beetlejuice, I always figured that the idea that you could summon the demon just by saying his name three times was meant to have a sort of childlike campfire ghost story quality to it. Ridiculous, but in a kid-logic, dreamtime way.
In Zot!, I played with the idea that all anyone had to do was type the proper name of my electric assassin 9-Jack-9 into any terminal anywhere in the world and he would appear. I figured that the unique quality of the name "J9AC9K" made the chance of anyone accidentally typing it infinitesimal, and therefore give it a certain weird credibility.
Beetlejuice! Beetlejuice! Beetlejuice!
J9AC9K
"Somebody tell Scott McCloud."
…
"Any sufficiently advanced technology is indistinguishable from magic."
— Arthur C. Clarke