Climbing up the Picture Plane
November 25th, 2009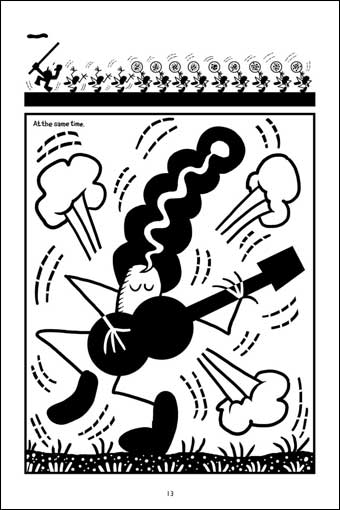 My old pal Larry Marder just sent me images from the upcoming Beanworld Book 3—the first all-new Beanworld stories in fifteen years—and I was struck by how beautiful they were; even moreso than in the original series, which remains one of my favorite comics of all time.
Larry uses spot blacks, bold geometry, rhythm, negative space, repetition, and variation like no other cartoonist I know.
Beanworld accomplishes something very rare. To use my own goofy terminology, Larry manages to use pure cartoony abstraction from the lower right vertex of the big triangle but because of the pure graphic ingenuity on display, his pages are a riot of abstraction reaching up toward the picture plane vertex at the same time.
Look at any given element. Is it a symbol? A picture? A pure shape? It's everything all at once!
Click on the thumbnails below to get a closer look at 6 out of the 186 pages hitting store shelves in early December. This one's going to be a classic.