The Free Flow of Credit
December 8th, 2009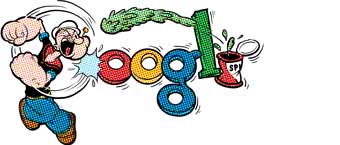 Today's Google logo featuring E.C. Segar's Popeye made me happy, though for a personal and kind of obscure reason.
I have this vivid memory of seeing the movie Annie in '82, probably with Kurt Busiek and other friends. It was the year we graduated college and were seriously pursuing our hopes of making comics professionally.
Annie was based, of course, on the popular Broadway musical, and the musical was based, of course, on the famous long-running comic strip Little Orphan Annie by Harold Gray.
The movie was okay (we had low expectations in those days), but there was something missing. Something important that a lot of people in the audience were unlikely to notice, but which Kurt and I were especially attuned to.
The name "Harold Gray" was nowhere to be seen in the credits.
It still pisses me off that they thought to list the screenwriter, and the author of the book for the play, the composer, the costume designer, the frickin Best Boy, but they couldn't take a moment to add in the name of the man who CREATED the characters.
So when I saw Popeye on the Google logo today, it was gratifying to see that instead of triggering a search for characters or companies or movies or toys, the logo simply took me here.