Thanks, New York!
January 25th, 2010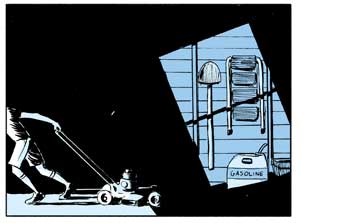 Talked to a lot of people on my latest fact-finding mission to New York as I head into the rewrite phase of my graphic novel.
One of them, Nathan Schreiber, I had the pleasure of meeting last week, so this is as good an excuse as any to plug his great comic Power Out (image above) now running at Act-I-Vate.
Shouts out as well to Dean Haspiel, Seth Kushner, Christopher Irving, Matt Madden, Jessica Abel, Tom Hart, Leela Corman, Jason Little, Myla Goldberg, Martha Thomases, John Tebbel, Mike Cavallaro, Becky Cloonan, Keith Mayerson, Laura Lee Gulledge, Simon Fraser, Nick Bertozzi, Joe Infurnari, Leland Purvis, Christine Zehner, Editor Supreme Mark Siegel, and everyone at Deep6 and XOXO.
I don't think I've learned that much in one week since I first discovered gravity as baby. Thanks, everyone!