Want to Make a 3D Comic?
July 7th, 2010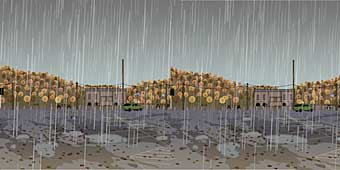 Matthew Bogart writes with news of a simple 3D comic he made the old fashioned way: two frames which viewers can merge by crossing their eyes.
Not everyone can see the effect, but when I was a kid I loved making 3D pictures this way using colored pencils and small-grid graph paper, so this made me smile.
These days, the most efficient way to get this effect might be using layers in a program like Photoshop or Illustrator, but anyone, using even the simplest tools, can pull this same trick with a little planning.
Anyone else want to try?