Hey, It's Out!
September 21st, 2010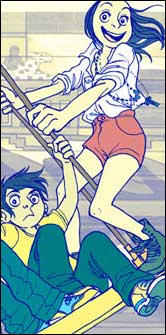 Delighted to realize yesterday that Jen Wang's eagerly anticipated first graphic novel Koko Be Good came out just last week.
Fortunately, if you're in the Los Angeles area, you can still catch the LA release party at Secret Headquarters this Friday at 7:30pm, and be one of the first to buy a copy.
(And if you're not, there's always the Interwubz.)
Been salivating for this one ever since this effective little video hit earlier this year. Can't wait to get my hands on the real thing!