Ten Things to Know About the Future of Comics
October 26th, 2010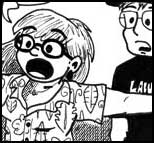 Shaenon Garrity has a great post at Comixology this week. A little manifesto called Ten Things to Know About the Future of Comics.
Garrity has this unnerving habit of being right about everything, so I suggest you pay attention (though, if you disagree with any of her conclusions, I'd be curious to hear your views too, of course).
Please note that although I'm briefly name-checked in the article, I didn't find out about this one through ego-surfing. It was actually via Barry Deutsch this time.