Wanna be a Guinea Pig?
December 8th, 2010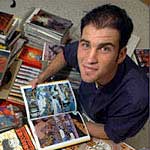 Neil Cohn is looking for volunteers to, well… look at comics. You guys can do that, right?
He's even offering a drawing for a prize, so go for it.
And while you're at it, check out Neil's other studies and essays at his Visual Linguist blog.
[link via Journalista]