Cartoonist Sighting
January 31st, 2011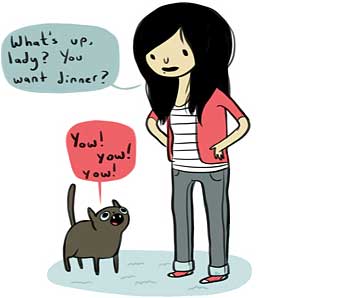 Natasha Allegri is like the Ivory-Billed Woodpecker* of comics artists. You have to camp out in her old natural habitat (LiveJournal apparently) for weeks to catch a glimpse, but it's always worth it. Funny, wonderfully-drawn stuff.
There was a time when LiveJournal spread all the way from Venezuela to the northern tip of Uruguay, and Allegri was the talk of the rainforest. Literally the #2 account in terms of popularity at one point.
But her presence — like LJ itself — has dwindled due to… I dunno, actually. Day job, I assume.**
Now she's joined the ranks of the many great cartoonists that deserves a much more solid web presentation.
Maybe, if we're lucky, she has a big project on the way, and hasn't just been struck by that humility virus that's been going around. [see update below]
Keep your binoculars ready.
*[UPDATE #1: I have been informed that the Ivory-Billed Woodpecker is a bit more than rare. It may actually be EXTINCT. Clearly Natasha Allegri is not extinct. Sorry for any confusion. I just meant her Livejournal comics are rare and beloved.]
**[UPDATE #2: Yup. Allegri's day job is working on Adventure Time. So yeah, gainfully employed, etc, etc… but I want more comics, dammit!]
[UPDATE #3: Fun fact: Pen Ward, creator of Adventure Time, took my original comics workshop at MCAD several years ago.]
[UPDATE #4: Okay, you can also follow her on Twitter, which links to her Tumblr, which seems to be updated a bit more often.]
[UPDATE #5: I am wrong about everything.]