Best. Email. Ever.
March 16th, 2011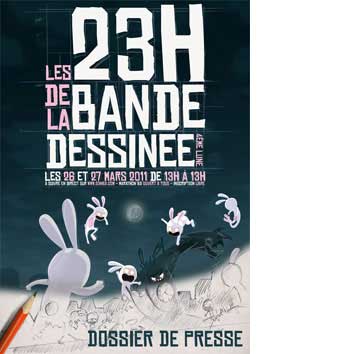 Okay, I officially love these guys now.
Got this letter this morning.
Dear Scott,

Mind if I call you Scott?

Oh, Scott, you have done so much for us comic geeks.
Reading comics is no longer childish. It's «de la culture» !
One book and everything changes. *sigh*
Thank you for that.

I have to tell you first how much my friends and I like you. We admire you.
But I have something else to say, and it won't please you. Ooooh no.

Do you like french people, Scott?
You don't have to answer. We know how Americans see us… They think they know us, they think froggies are full of self-esteem, arrogant… even rude sometimes.
Do YOU think we are? Do you, Scott?
You are so far from the truth.
We are worse.

This «24 hour comics day» you created, you know… it was a really good idea. Congrats for that.
But, eventually, we realised it was way too easy.

We decided to do the same, but in 23 hours.
Yep, 23 hours.
Because we choose the shortest night of the year, when daylight savings time begins.

And we did it. We've been drawing faster than you and your pals for 3 years now.

We just wanted you to know. We are just the best.

And on march 26th, we'll do it again.
In your face!
But with respect.
And a lot of compassion.

Yours faithfully,

Zia, for the amazing Turalo, Piak, Paka, Kéké and hundreds of french comics artists.
(So who else is surprised they even *have* daylight savings time?)
Good luck from all us slowpokes!