Laban Alert!
March 17th, 2011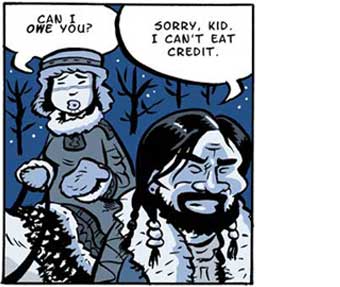 Terry Laban has begun online serialization of Muktuk Wolfsbreath, Hard-Boiled Shaman (gotta love that name).
It's a funny and smart strip so far, but that's no surprise. Laban is a terrific writer and cartoonist and I'm sure he'll have many great surprises up his sleeve in the coming weeks.
Definitely bookmark this one.
If any of you still "bookmark" things.
[link first seen on CR, I think]
***
Meanwhile, Shaman on YOU, anyone who's stealing t-shirt designs from Jess Fink (or anyone else for that matter). There are some sick people out there!