Frank Stockton's "Hamburgers for One"
May 4th, 2011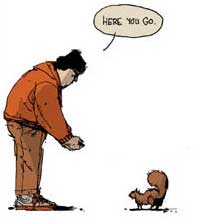 You can read the whole thing here. Great little story. Stockton offers some context on his blog here.
I'm encouraged to see artists embracing the short story form a bit more. Anthologies used to be the only venue (and indeed, this one was originally for Popgun Vol. 4), but they also work well on the Web, where a GN's worth of time may be hard to find, but many viewers are ready to carve out 5-10 minutes.
Stories like "HfO" (or this or this) also make a great entry point for new comics readers, wondering what might be worth reading out there, but nowhere near ready for a more substantial investment of time and effort.
[link via Heidi—though I'm a bit late getting around to it!]