Social Studies
July 27th, 2011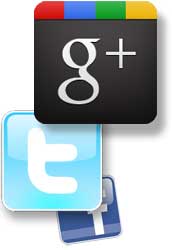 Another thing that happened while the blog was asleep: I joined Google Plus.
I don't spend much time on social networks. My life is broken down roughly into a hierarchy of Work, Family, Food, Sleep, Friends, and Recreation and that last one usually involves family if possible. Also the first one takes up a huge part of each day.
Still, I've found my Twitter account useful for short bursts sent out to many people (about 230,000 followers as of this morning, though that seems to include more than my share of bots), and Facebook, well… you kinda have to have Facebook. So I do. But I've never been a fan.
Yesterday, I asked on all three a hypothetical question: If you had to get rid of either Google+ or Facebook forever, which would it be.
Despite being only a few weeks old, G+ users (in 142 responses, as of this morning) were nearly unanimous that they'd nuke FB without batting an eyelash. My Facebook fan page followers (my personal page is pretty small and hard to link to) offered 34 responses, with less enthusiasm, but mostly stood by the service. Twitter… well, take a look.
Google paid me to do the Chrome comic a few years ago, so I can't ever claim to be 100% impartial, but the truth is I kinda love Google Plus so far, and will probably shift my attention there much more than Facebook as the service grows.
What little attention I can spare for these things anyway. Still have a book to draw!