Mythomania!
July 26th, 2011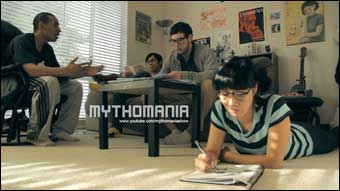 Okay, we've moved apartments and gone to Comic-Con and back. Let's get back to babbling about random comics news.
By far the coolest thing to happen in comics while I was on break these last few weeks was the debut of Derek Kirk Kim's new video series Mythomania.
I have a cameo in the first episode but I'd be highly recommending these wonderful videos even if I wasn't in it (oh Hell, especially if I wasn't in it).
It's a wonderful and funny portrait of aspiring young cartoonists so dead-on, it feels to me like I've known them for years.
Watch the first three episodes right now, and see if you don't fall in love.
Thanks to everyone who came out to see us at Con, and to all our friends for filling our days with happy reunions and crazy conversations. It's my family's Thanksgiving (complete with the eating too much) and the year wouldn't feel complete without it.