Boxes, Boxes, Boxes…
August 8th, 2011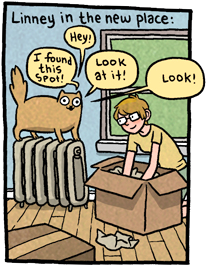 Lucy Knisley knows how it feels.
My family and I are still unpacking from our recent move. I've spent a big chunk of my adult life in a sea of partially unpacked boxes. And worst of all is my email inbox.
I'm going to be updating this blog a bit more infrequently moving forward as I chip away at that inbox and continue work on my GN, but you can always follow me via rss, and be sure to keep an eye on my Google+ and Twitter accounts.