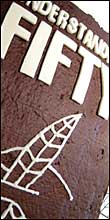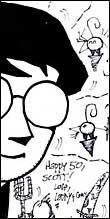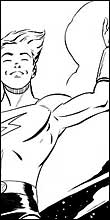 Ivy throws me surprise parties once in a while. She's brilliant at engineering surprises, but it's almost wasted, because I'm pathetically easy to fool. (Imagine Ricky Jay doing card tricks for a cocker spaniel, seriously.)
Anyway, she pulled off another wonderful party Saturday, two days after my actual birthday, which was all it took to eliminate any suspicions on my part, because, well… see above. I'm dense. We had a fantastic time all the way into the wee hours.
Along with our great local pals, longtime friends Kurt Busiek, Larry Marder, and Barry Deutsch flew/drove/rode in for the occasion, and Larry and local legend Paul Smith even gave me some gorgeous original art! (Check it out!: Paul's | Larry's)
And then there was the cake! Yet another piece of great original art; quickly demolished, but no less appreciated.
Friends, Life, Wife: I love you.
Thanks. ^__^