Making Faces
February 25th, 2009
The Grimace Project is a freakishly cool facial expression generator that came out a few weeks ago in which you can mix and match any two of the six "emotional primaries" that I charted in Chapter 2 of Making Comics.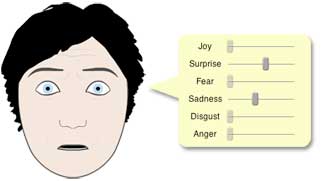 The project comes out of the Vienna University of Technology under the guidance of Peter Purgathofer. The team kindly acknowledges me, but credit is equally due to my own inspirations for the charts, artist Gary Faigin and researcher Paul Eckman — not to mention Mr. Darwin.
Facial expressions should be taught in every grade school. Just because kids can "write" and "read" them through instinct is no reason not to help them understand this powerful communicative tool we all carry around on the front of our heads. Widgets like the Grimace Project could be a great starting point.