With Great Power…
August 26th, 2009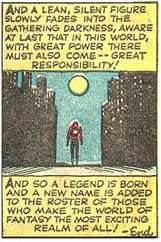 There's an interesting conversation between Dash Shaw and Hope Larson about editing that's been making the rounds. Hope likes editorial feedback, but I've heard other young cartoonists railing against editors.
I came from a generation of independent/alternative cartoonists that largely believed that "editorial freedom" meant "freedom from editors," but I've always believed in the value of getting honest, in-depth feedback.
For most of my career, I've had tremendous freedom in putting together my stories and art, but I've also turned to friends to tell me when I'm going off the rails. When working on Understanding Comics in the early '90s, I turned to my panel of "kibitzers" (Kurt Busiek, Neil Gaiman, Larry Marder, Steve Bissette, Jenn Manley Lee, and Ivy) to rip apart my layouts and rip they did.
The very fact that I could have ignored their advice gave me the confidence to follow it. Whole chapters got the axe and new ones were created. I had the power to ignore them, but I also knew what Spidey said about "great power" and — like the spelling of invulnerable — it was a lesson I learned from reading superhero comics that I've never forgotten.