Does This Cover Mean Anything to You?
September 22nd, 2009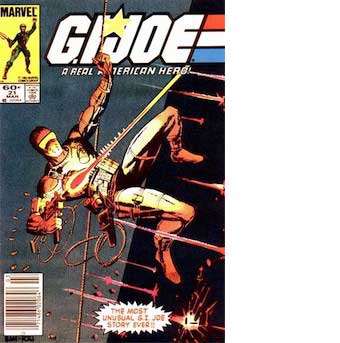 For American mainstream comics fans born in the early '70s, it seems that the answer is a resounding "yes!" This silent issue of G.I. Joe (a series my crowd dismissed as a forgettable toy tie-in comic) by Larry Hama was apparently an important moment in the young lives of future (male?) comics artists of the generation a decade after mine.
I think it was Larry Marder who first directed my attention to this weird phenomenon, but the wise and witty Shaenon Garrity has now penned the definitive write-up (with a cameo by Your Truly in the role of Mary Poppins).
I saw Shaenon and Andrew Farago last week before hopping my flight home from San Francisco, when I realized that my UX Week hotel was just three blocks from the Cartoon Art Museum where Andrew works.
Be sure to check out Shaenon's own new book collecting the first run of her great new strip Skin Horse.
[thanks to Heidi for the heads-up]