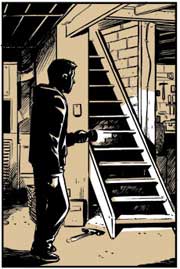 Haha, look who I'm tied with. Also being on this more personal list made me smile.
Been looking for an excuse to link to Cameron Stewart's beautifully rendered Sin Titulo. This news seems reason enough.
Finally, in keeping with last week's post (and Google+ mini-meme) on art we did when we were 15 years-old, here's an interview with talented cartoonist and entrepreneur, 14 year-old Emma Capps. The girl's reading Asterios Polyp, People. This next generation will be something to see.