The House that Patience Built
July 28th, 2010
Back home from Comic-Con!
It felt like a very forward-looking Con to me, despite all the worries about impending doom in various markets.
Both Sky and Winter were among the thousand or so led by Edgar Wright out of Hall H on Thursday to see one of the first public screenings of you-know-what. Have yet to meet anyone who didn't love it.
The four panels I was on went off without a hitch. After the fourth on Saturday, I talked for a long time to two teams of iPad comics creators about the challenges of that new platform, and was reminded of how young the mobile space still is.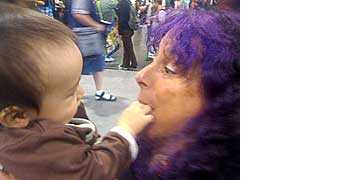 Speaking of young, Ivy and I got to meet Juni Kibuishi for the first time (above—and yes, Ivy's hair is purple again!). I watched his eyes watching everything and was reminded how unpredictable each generation of creative minds can be.
Raina Telgemeier's terrific all-ages Smile sold out at the show. We talked at the First Second dinner about the dozen other subjects that deserved the comics treatment and what a difference Raina's personal touch and wise storytelling choices made.
Of the hundred thousand plus who descended on San Diego last week, maybe a few hundred were aspiring young artists or writers making the journey for the first time.
It's easy for a dedicated young artist to believe that if their work is good enough, it'll rise and rise until they're the ones at the Hall H microphones (or at least Ballroom 20) and it's their characters being painted on the side of the Bayfront Hilton.
It's also easy, after a few years of frustration, for even the best young cartoonists to believe that the system is rigged, and no matter how hard they work, there'll be enormous obstacles put in their way that have nothing to do with the quality of their stories and art.
Both are true, of course. Good work will rise to its level AND the system is rigged. Which is why, if you want to find a common denominator among the success stories at San Diego, it's patience.
For example, bookstore buyers don't always understand Telgemeier's Smile. The children's comics market in bookstores is still immature and the obstacles for new authors are numerous and frustrating. But as soon as kids actually got their hands on the book (often through book fairs), it became a big hit. The book itself made all the difference.
One of the iPad hopefuls I talked to was Robert Berry whose Ulysses adaptation was originally rejected by Apple for nudity. It's a smart, well-designed work that was nearly killed in the cradle, but its future actually looks pretty bright now that Apple was embarrassed into reversing their decision. Joyce's legacy may deserve part credit for the reversal, but the quality of the work will carry it from here on.
And Scott Pilgrim for YEARS couldn't get shelved in one of the biggest book chains in America. The "system" was truly rigged against it. Yet here we are.
Will Eisner insisted again and again that CONTENT would always drive the industry and the art form. No matter what happened at the retail, publishing, or distribution levels; it was what happened on the page and in the panels that would make all the difference.
I believe it more every year.