Landing on a Dime?
October 8th, 2009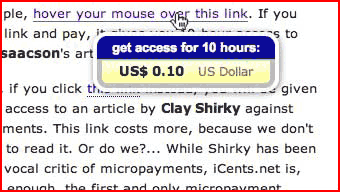 I honestly have no idea if this will fly or not, knee-deep as I am in the graphic novel, but iCents is at least offering a novel approach in some respects and if anyone out there wants to give it a closer look and offer your thoughts, I'd be curious to hear them.
Still having the tar and feathers from last time removed, so I'll stay on the sideline regarding the more general debate about micropayments that's been flairing up again recently (at least for now).
More importantly, the whole world is still busy sorting out whether there will even be intellectual property in a decade or two, so the question of what kinds of new industries it might generate could be on a lot of peoples' back burners a while longer.
[Update: Marc Glasberg from iCents has hopped onto the comments section and has some illuminating answers for those interested in learning more about the system.]