Dan Goldman's Red Light Properties
January 8th, 2010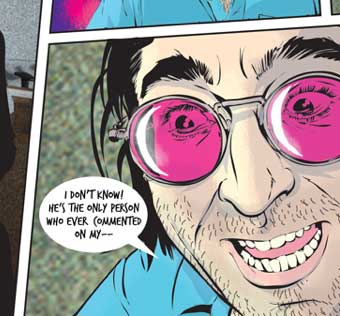 Dan Goldman has a new comic up at Tor.com which loads one panel at a time. Works pretty smoothly.
What's interesting for me (apart from the art and story, of course) is how seamless it felt on a fast connection where the panels dropped in right away, and how jarring it was on a slower connection when the whole page vanished between loads. Speed definitely improved the reading experience.
Since the early '90s, I've struggled to look past glitches that had more to do with temporary technological limitations to the various new format ideas artists have been trying out. I've tried to look ahead to a time when all those problems would be solved—like, say, 2010. Ah well. Patience, patience…
Dan has an interesting interview about the project with Seth Kushner at Graphic NYC where he talks about the story and the process, with a nod to Yves Bigerel's Digital Comics which helped inspire the format.
[Edit: Last night uploaded an unfinished version of this post, since I forgot to save the final. Above is the final version.]