Hey, it's Brad!
January 7th, 2010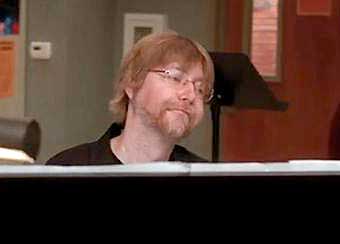 We finally saw the "Mattress" episode of Glee on TiVo last night and Ivy and I were happy to see the silent pianist "Brad" get more face time.
Brad Ellis is actually part of the musical production team for the show, but I remember him from my own High School back in Lexington, MA, and before that, in Sunday School, where he had a habit of bopping me on the head with Hymnals while Bill McKibben and I argued politics.
Lexington… I'm telling you…
Anyway, someone should make a Glee T-Shirt with the face above and the slogan "It's All About Brad!" It would totally sell. (Well, to us at least).