466 Pages at a Glance
January 6th, 2010
Spoiler Alert!
Just for fun, here's a distant screenshot of all 466 pages of my rough draft layouts for my upcoming graphic novel (working title The Sculptor). This is as close as I can bring you right now, but as work goes on in the coming months, I promise to show some actual art.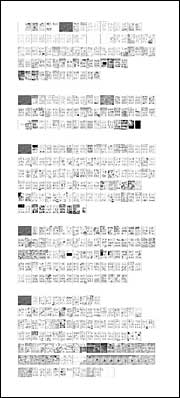 It's a testament to the speed of today's processors—well, 2007's processors—that what you're looking at actually exists in a single file and if zoomed in, the lettering is readable. To get a sense of the scale, each of those dark gray rectangles is a two-page spread chapter divider.
When heading into rewrites and restructuring, it's always helped me to step back and look at "the big picture." For all my previous projects, including the all-digital Making Comics, I had to depend on paper layouts to get that kind of topsight, but for this project it's all pixels from start to finish.
Oh, and yes, I still plan to make it shorter during the next two months, even though I had to adjust the count upwards from the last blog post.