David Lloyd Sums it Up
January 11th, 2010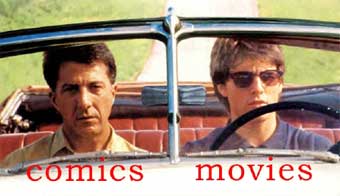 Yeah, I'm going to follow Kurt's lead here:
David Lloyd sums up the last ten years beautifully with the above image at the Beat's year end survey.
I never cared much if my comics were made into movies in the past. Someday it might happen and I'll buy something big, and go straight back to the drawing board, but I never viewed movies as a "step up" like some.
Still, it's been encouraging to see the increasing deference our medium has earned as nerds of all types have clawed higher and higher in popular culture. And it's refreshing to see at least a few comics benefit directly from the increased attention (Watchmen, 300, etc); reversing a long trend of comics movies selling movie tickets, but very few comics.
Waiting for progress in comics is like waiting for the hour hand on a clock. At any given time, it can feel like we're standing still, but we've actually moved a lot in a fairly short time.
Or does that metaphor mean we're just going in circles? Hm.