Sarah Oleksyk's Ivy
January 27th, 2010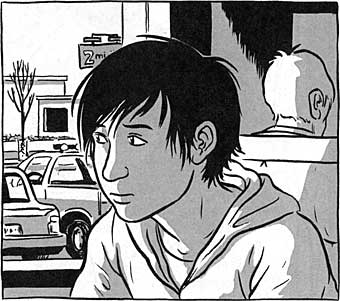 Just got the fifth and last installment of Sarah Oleksyk's Ivy in the mail. Ivy sports confident storytelling and accomplished artwork that's been getting better throughout the series. (Also gotta love the title, since it happens to be the name of the woman I love, but that's neither here nor there).
I've been studying it for Oleksyk's use of a middle tone with black and white artwork since I've been toying with similar approaches for my graphic novel. There's something very warm and solid about the approach that I like. Seth does something similar in a lot of his books, though Oleksyk goes for more naturalistic contours to nice effect.
Each chapter of Ivy is available as a thick self-published "mini" (actually 8.5″ x 7″, folded-over legal sheets). You can contact the artist to buy the whole set of five books for $20 here. As a self-printed story clocking in at close to 200 pages, it's a pretty good deal. You can also read an excerpt from the first volume here.
Oleksyk's been at it for a while, but may be a relatively new name for many out there. Based on her continuing growth as an artist, I look forward to hearing the name with increasing frequency in the future.