Learning How to Learn
February 19th, 2010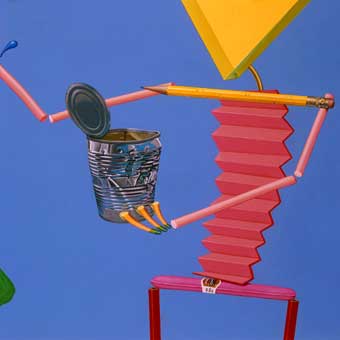 Yesterday's trip to the post office box brought a welcome surprise: a great collection of paintings by Kathy Calderwood, one of my art teachers at Syracuse University thirty years ago.
Kathy was one of the cool teachers at S.U., who enjoyed cartoon iconography and didn't discriminate against "low" arts like comics. Others included Larry Bakke who drew from nearly every discipline in his aethetics lectures, and Murray Tinkelman, who had a Krazy Kat original and was tennis partners with Will Eisner.
I was always grateful, in retrospect, that the faculty at Syracuse were as open to comics as they were. Positive attitudes about comics weren't nearly as common then as they are now.
For all the encouragement I got for my comics, though, I always figured I was at Syracuse to learn everything else. There were things I learned during classes in poetry, music appreciation, theater, and animation that I still use today. Making comics requires so many skills and areas of knowledge, hardly anything I learned was ever really wasted.
In junior year something clicked. I started auditing classes and going to the library more and visiting local museums. I realized that no one was going to be grading me past the age of 22 and no one could ever be as invested in my progress as I was. I was learning how to learn.
Thanks to all my teachers from kindergarten onward, who helped me get to that point.