When Metaphors Touch Down
March 5th, 2010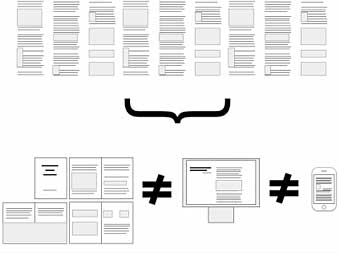 Long-time friend of the site, Greg Stephens suggested I check out this article by Tokyo-based Craig Mod which offers his take on different contents' ability (or lack thereof) to migrate easily from device to device.
His whole presentation has an amusing vintage-Tufte meets RC-era me feeling, and some of the reasoning may be a bit fuzzy, but his ideas are fun, provocative, and worth a look—as are the many comments that follow.
Craig's main point—that there are types of content that can't be endlessly re-flowed and re-purposed because their formal presentation is integral to the work—is a huge issue for comics and the source of a lot of our growing pains to date.
For years, I've watched as we've tried out a dozen different metaphors for comics on the Web. Pages versus windows, flipping versus panning, "strip" versus "magazine" versus "book"… all the while assuming that the best metaphor(s) would simply win out in the end on an open network.
What worried me is that sooner or later, one or two of those metaphors were bound to migrate to dedicated reading devices, and when they did, the designers of those devices could simply choose which metaphor suited them and lock them in. For a really long time.
If such devices follow an app store model, such experimentation doesn't have to stop dead in its tracks. Maybe. But there's no question that "later" is becoming "sooner" is becoming "now" and if we don't make some smart decisions during this stage of growth, comics could veer dangerously off course for years.