Is it Comics?: An Interesting Fence-Sitter
March 31st, 2010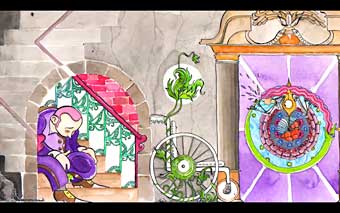 Got this in the mail last night:
My name is Ira Marcks. I am a cartoonist from NY who recently collaborated with Jake Lodwick (founder of Vimeo) on an experimental illustration/animation project.

It's sort of like a 45 minute music video with one sliding frame. But it's also like a graphic novel told in a single, 50 foot long panel.

I settled on the term 'Illustrative Score' to describe the project and it's method.
Check out Ira and Jake's stimulating results here (and Ira's personal site here).
And when you're done, I'd be curious to hear your reactions to the old "Is it Comics?" question. Not a technical debate comparing it to this or that definition (though I'm sure those will come up), just gut reactions. Does this feel like comics to you?
I'm curious, because I'm totally on the fence!
Anyway, cool stuff regardless of what we call it.